North Sea Energy invites you:
Thursday: 20 January 2022
WEBINAR:STAKEHOLDER PERSPECTIVES ON NORTH SEA SYSTEM INTEGRATION

11:00 – 12:30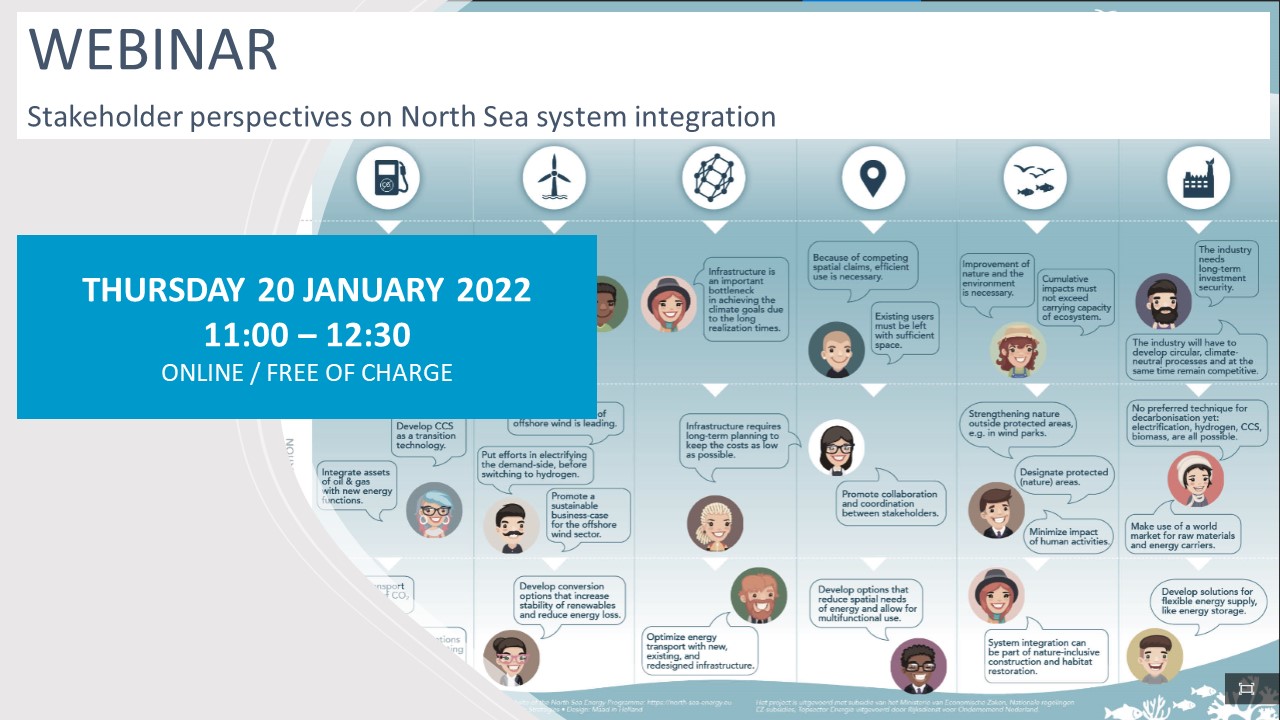 The North Sea has the potential to play a pivotal role in the energy transition of the surrounding countries, but it is also a busy area with important ecological, societal and economic functions to a wide range of stakeholders. The support or resistance of these stakeholders can be an important stimulus or barrier to offshore system integration.
As part of the North Sea Energy (NSE) Program, MSG Sustainable Strategies has performed an extensive analysis of Dutch stakeholders' views, concerns, needs and potential benefits related to North Sea system integration and specific integration options, such as reuse, CCS and hydrogen in particular. The report on this stakeholder analysis will soon be published.

Energy Reinvented Community members are invited to join a webinar about the key learnings of this study of stakeholder perspectives on offshore system integration in the North Sea.

PRELIMINARY PROGRAM:
Welcome and opening remarks – René Peters, business director NSE program
Stakeholder perspectives on offshore system integration: key learnings from the study George Wurpel and Anne-Mette Jorgensen, MSG Sustainable Strategies
Stakeholder knowledge needs and the NSE Programme, George Wurpel and Anne-Mette Jorgensen, MSG Sustainable Strategies
Discussion with panel of interviewees and participants led by René Peters

MORE INFORMATION AND REGISTRATION

Please note: the webinar originally was scheduled on 6 December. Unfortunately, due to technical problems caused beyond their control, NSE was forced to cancel that webinar. Therefor NSE decided to reschedule the webinar on 20 January 2022, allowing people who were unavailable on 6 December to join as well. If you already registered for 6 December, you do not need to register again. NSE has automatically rebooked these attendees and will share the new link one week before the webinar.

Meanwhile, NSE has published the report of the stakeholder analysis on their website.



Click to add this event to your agenda
Back to overview