15 june 2020
11:00
LOCATION: ONLINE TALKSHOW
11:00 - 12:00
CROSSING BRIDGES: Energy transition in the post-Corona world.
"Cross borders in thinking and acting, connect all elements in the system, and see the energy transition as an opportunity!"

These inspiring words illustrate the discussion in the online Talk Show Energy Reinvented Community on 15 June 2020. In an interactive 1-hour session our inspiring speakers, Patrick van der Duin(Stichting Toekomstbeeld der Techniek), Hyung-Ja de Zeeuw (Rabobank), Gertjan Lankhorst(VEMW), and Teun Bokhoven (NVDE), reflected on the post-Corona world and responded to questions from the online participants.
In the historic surroundings of studio 2 in Hilversum, the oldest studio in the Netherlands, our speakers joined the table, invited by Ewald Breunesse (ERC steering committee) and moderator Jan Douwe Kroeske.
Patrick van der Duin
(Stichting Toekomstbeeld der Techniek), kicked off with his centre's
study
on the impact of Corona on society and economy. Patrick explained: "We have developed four scenario's that provide us with directions in our thinking and acting towards the 'new normal'." Urging companies to step out of their comfort zone, he advised: "Look into scenario's you may not like at first sight to broaden your thinking."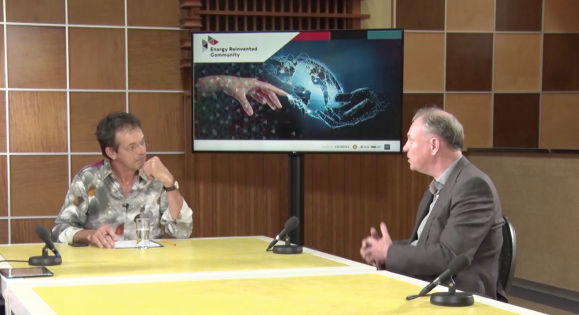 In the panel discussion
Hyung-Ja de Zeeuw
praised the Netherlands as a frontrunner: "We are in the front line of the energy transition in terms of thinking and focusing." At the same time the Netherlands is too small to address the energy transition on its own. She stated: "Cross borders to connect all elements in the system!" Responding to the Fear-scenario: "Fear can only lead to risk mitigation, which is exactly what we should not do. We should all stick our necks out, as the banks are doing now."
Gertjan Lankhorst
urged government to take leadership, leading us into the new reality. Not just with a national focus, but with an international mindset. He also urged: "Focus on the system as a whole and bring all parts in one system!" Referring to potential blockers: "For a successful energy transition we need the right infrastructure ánd societal support. The European Green Deal can be the hard core of a change program, investing in green growth and essential infrastructure."
Teun Bokhoven
advocated to broaden our minds, looking beyond Dutch borders, to be more creative, more innovative. "Before, we saw the energy transition as a fact, now we should see it as an opportunity. For national governments this means translating European guidelines into laws paving the way for the transition. Companies are also part of the transition and should transform themselves".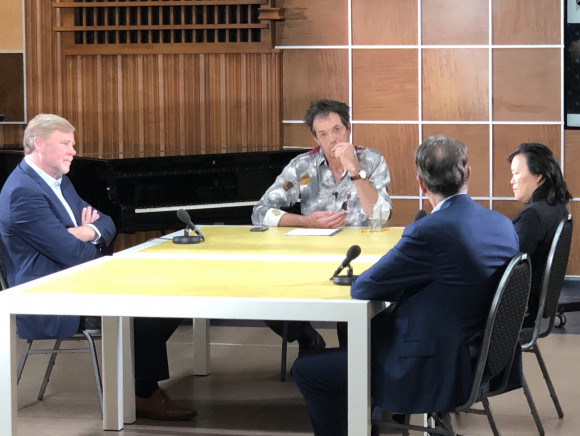 An integral recording of the session can be found at the website
www.energyreinventedcommunity.com
by using your personal login code.
Go to
FORUM
, select
EVENTS
and select
2020-06 "CROSSING BRIDGES
- ENERGY TRANSITION IN THE POST CORONA WORLD
".
Looking forward to meeting you again on our next event on
October 8, CROSSING BRIDGES - REINVENTING HEAT SUPPLY
.