STICHTING DUIK DE NOORDZEE SCHOON believes in a clean and healthy North Sea where fishing, energy production and recreation are sustainably in harmony with flora and fauna. Initiated by experienced North Sea wreck divers, the Foundation wants to highlight the importance of natural and artificial reefs in the North Sea. Annually, they organise one or more expeditions to special areas of the North Sea with the aim to increase knowledge of the North Sea, protecting shipwrecks from destruction and waste disposing.
The volunteers of
Stichting Duik de Noordzee Schoon
are a great source of inspiration to Energy Reinvented Community and IRO. Fully funded by their own contributions and donations, expedition members dedicate themselves to protecting the North Sea.
Beautiful images and great stories about 14 diving expeditions of the foundation are included in the adventure book IN THE DEEP. With wonderful pictures, the book tells the story of fourteen adventurous and special discovery voyages to all corners of the North Sea (impressie). Unique reefs pass by with their flora and fauna on the seabed.
Energy Reinvented and IRO have joined forces to make an extra day of diving possible during the expedition planned for September 2020. That is why you receive this mailing.
HOW CAN YOU CONTRIBUTE?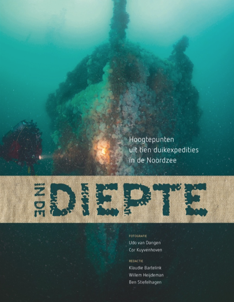 Especially for our members, the foundation publishes an exclusive English version of the book.
Your contribution will hopefully enable both the production of the book ánd an extra diving day in September.
There are many ways to contribute:
If you order at least 50 books before 1 July 2020, you will receive a 20% discount (price is € 19.50 per copy). The books will be available from 15 August 2020.
Choose this beautiful business gift and contribute € 5,000 once and you will receive a logo statement on the back of the book.
A personalized edition of 'In the Deep' with your own logo is possible for orders of 500 copies or more.
Board members of the foundation are happy to inspire your audience with a multimedia lecture 'In the Deep' for a contribution starting at € 800.
It is also possible to become a partner and join with an annual contribution; visit www.vrienden van de noordzee.nl.
Take a look at the good work of the volunteers in this
short trailer
, or check out the
website
of Duik de Noordzee Schoon. As the foundation has an ANBI status, donations are tax deductible.
We all carry responsibility to our North Sea; the Foundation counts on you!
For all your contributions and / or questions please contact
pr@duikdenoordzeeschoon.nl.
"
In the Deep presents impressive beautiful images of the underwater world of the North Sea. We hope that the English edition provides our members with an inspiring business gift and will make a diving day possible at the same time.
", Susan Kimkes (ERC) and Tjerk Suurenbroek (IRO).
ON BEHALF OF ENERGY REINVENTED COMMUNITY
Ewald Breunesse, René Peters, Jan Prins, Connie Prins, Barthold Schroot

ON BEHALF OF IRO
Tjerk Suurenbroek